Chris Tyrrell, Mike De Iuliis, and Jeff Byrne, masters of Hunter Valley Semillon.
Semillon is one of my favorite grapes, but there isn't a lot of varietal Semillon in the U.S. Most people know it from the relatively small amounts blended with Sauvignon Blanc in white Bordeaux. On its own it stars in the famous Bordeaux sweet wine Sauternes, and shows up a bit in South Africa and a bit more in Australia. Considering American wine geeks' love of another minerally, high-acid white (Chenin Blanc), is Semillon scarce here because there's no market for it—or is there no market because it's scarce?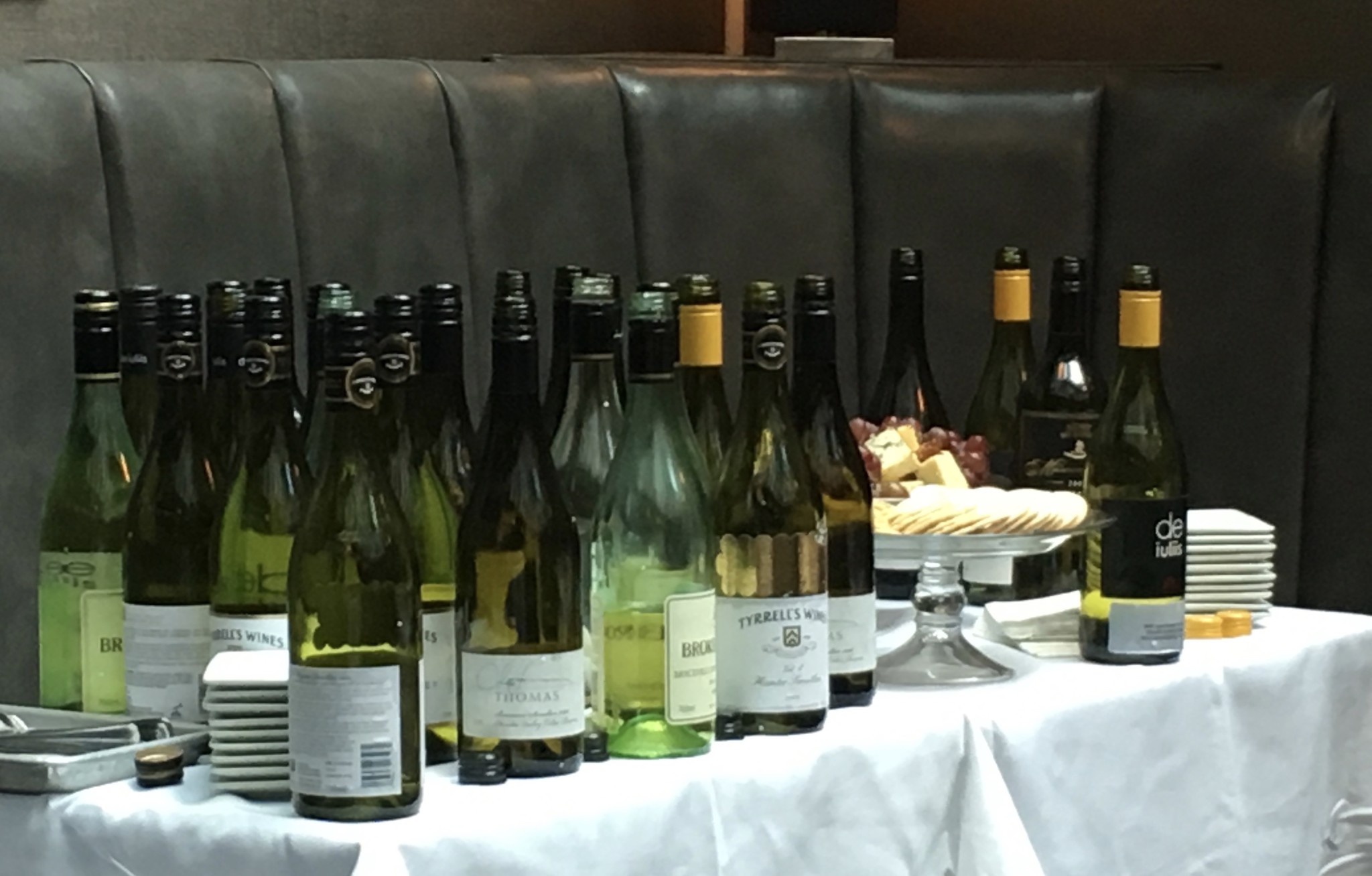 The lineup was Brokenwood, De Iuliis, Thomas Wines, Tyrrell's, Audrey Wilkinson; in 3 vintages: 2017 (mostly), 2009 (mostly), and 2005
What a great opportunity, then, to attend a Hunter Valley Semillon masterclass organized by Chuck Hayward, internationally recognized expert and consultant on Australian and New Zealand wines. Chuck invited winemakers Chris Tyrrell (Tyrrell's), Mike De Iuliis (De Iuliis), and Jeff Byrne (Audrey Wilkinson) to Burke & Wills last week for a comparison tasting of youthful, maturing, and mature Semillon.
The discussion was entertaining and wide-ranging, but I'll simplify the proceedings by highlighting the men's comments on the three "ages" of Semillon we tasted. (Re Semillon: If you want to sound Australian, pronounce the l's.)
Youthful (2017) Semillon
Tyrrell explains that Semillon arrived in Australia from Bordeaux via South Africa. Originally Semillon wines in Australia were labeled as Riesling or white Burgundy. It wasn't until 1986 that the first Semillon was labeled as such.
De Iuliis: "The Hunter is unique because you can get riper Semillon flavors. You lose the snow pea and lettuce at pretty low sugar levels," allowing growers to pick before potential alcohol creeps up. He says Semillon is "pretty unforgiving as a grape variety.… I have a crack every year, some years we get it right, some years we screw it up."
Byrne says 2017 was the hottest vintage in history, so there was some acid adjustment.
De Iuliis agrees, "They all got a bit of a tickle-up as they came in."
Byrne makes 6 Sems from 14 parcels. They're all made the same—the goal is to understand the site. Another goal: These wines are "quite delicate and pretty racy, but if you can have that back-palate power…"
Hayward points out one recent change in production in Australia: there are more vineyard designated Semillons being made now; there's more of a Burgundian approach.
Maturing (2009) Semillon
Hayward points out that screwcaps have transformed the aging of Semillons.
Tyrrell says yes, "with the corks you knew you had to protect the wines" with CO2, sulfur, etc. Tyrrell's started using screwcaps in 2004, and found they had a lot more wine to sell with not having to discard so much from spoilage. "We were shit-scared," he half-jokes. But people bought the wine when they realized it was in good shape.
Byrne: In the 2009s, you "start to see white wax, it's not quite toast yet, that will come." That the toast flavor comes from barrel fermentation is a common misconception.
De Iuliis: "These nines are in the zone." He wants to see both fruit and development as they age. In the 2005s he thinks we might see the fruit start to go.
Mature (2005) Semillon
2005 was "effing hot," says Tyrrell—the first year of a 3-year drought in the Hunter. The wines were bigger, richer when young.
Hayward points out that as Semillon becomes more recognized, the challenge is to keep wines in stock to release a bit later. It wasn't until the early 90s that people began selling aged Semillons.
Tyrrell says young-and-fresh is a cash-flow thing. In order to sell older wines, "My father had a pretty strong argument with his father, and he had to hide [the wines]."
A few generalizations can be made about this lineup. The young batch was racy, with pretty crazy acidity. As the wines developed, they got buttery, more concentrated, waxy or toasty, and the 2005s did start losing a little fruit and acidity. There was very little oxidation in evidence. It was all recognizably Semillon, although that's easy to say—if someone had thrown a Chenin into the mix, would I have known? And if Chenin is the next Riesling, could Semillon be the next Chenin?